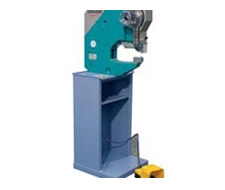 G 3 Air
AUTOMATIC EYELETS MACHINE
Auto punching automatic eyelet machine for the eyelet application of different types and diameter.
Built in welded resistant cast iron frame, it is particularly heavy and reliable. Good for the application of eyelets up to 40 mm hole diameter. Great performance and riveting strength (over 2000 KN).
Extremely compact and versatile, pneumatic-powered, it is suitable for small and large productions. It is provided of with wide capacity loader for eyelets of (about 200 pieces). Working speed is 30 eyelets per minute.